Looking for Alaska
Can we take a moment to praise the set designers? Both Dr. Hyde's house and Dolores's trailer do exactly what sets should do, reinforcing our perception that people live there and made very specific choices about their furniture and knick-knacks. Of course Dolores' room is a shrine to the Colonel's accomplishments.
-Sophie Brookover
Volture
Click here for more.
Love Simon
"We scouted everywhere," says the film's production designer, Aaron Osborne.
"After walking through 40 houses, we walked into this house and said, 'This is it!'" It's the room that would eventually be transformed into Simon's bedroom that sealed the deal, because of the space's cubby hole. Osborne immediately thought of how he could transform it into Simon's cozy bed area. The three walls surrounding his bed were painted with Benjamin Moore's black ben Chalkboard Paint. As soon as the paint dried, both cast and crew began doodling on the walls with different colors of chalk. There's a scribble of "April 2nd—Radiohead" and a sketch of a pair of hands in the prayer position. Lyrics from Elliott Smith's "Waltz #2" have prominent placement, including "I'm doing just fine" and "hour to hour, note to note." "Becky Albertalli came over, and some of it's her handwriting," Osborne says.
-Marc Malkin
Architectural Digest
Click here for more.
The Good Lie
"On The Good Lie, the watchwords were authenticity and realness. I come from documentary filmmaking which drives me to be as accurate as possible when it comes to production design. Aaron Osborne delivered sets that not only looked real to me who had been to South Sudan, but to the South Sudanese refugees themselves who acted in our film. I remember witnessing some ofthem shedding tears upon seeing the reproduction of their native village even though we were 3000 miles away. In Atlanta Georgia and in South Africa, Aaron had to reproduce parts of the massive Kakuma refugee camps situated in Kenya. In a 30 second sequence where we see our our main protagonist arrive at the refugee camp and walks towads the processesing center, the shooting actually took place on 5 different locations spread across two continents, from Nairobi to Upington South Africa, through the real refugee camp and finally to the inside of a barn in Atlanta. All of it blended seamlessly."
-Philippe Falardeau
Director of The Good Lie
Read more in this review fromMovieForum.
Kiss Kiss, Bang Bang
""Like an after-hours police detective, I'm perched alongside Aaron on his set for Without a Trace, now deserted. He's come prepared with reference sheets, color samples, beautifully juxtaposed images of L.A. He talks of what he calls "light pollution," of utilizing a "dirty" sodium look on building facades. We speak of Christmas in L.A., and how it's invisible unless you forcibly conjure it…I pour through his photos, mouth open, and think, my God—here's someone who actually loves and hates L.A. as much as I do. His take on the city brought to Kiss Kiss Bang Bang a quality that resonated in review after review… surreal and tawdry and nuts… and just really Aaron."
–Shane Black
Director of Kiss Kiss Bang Bang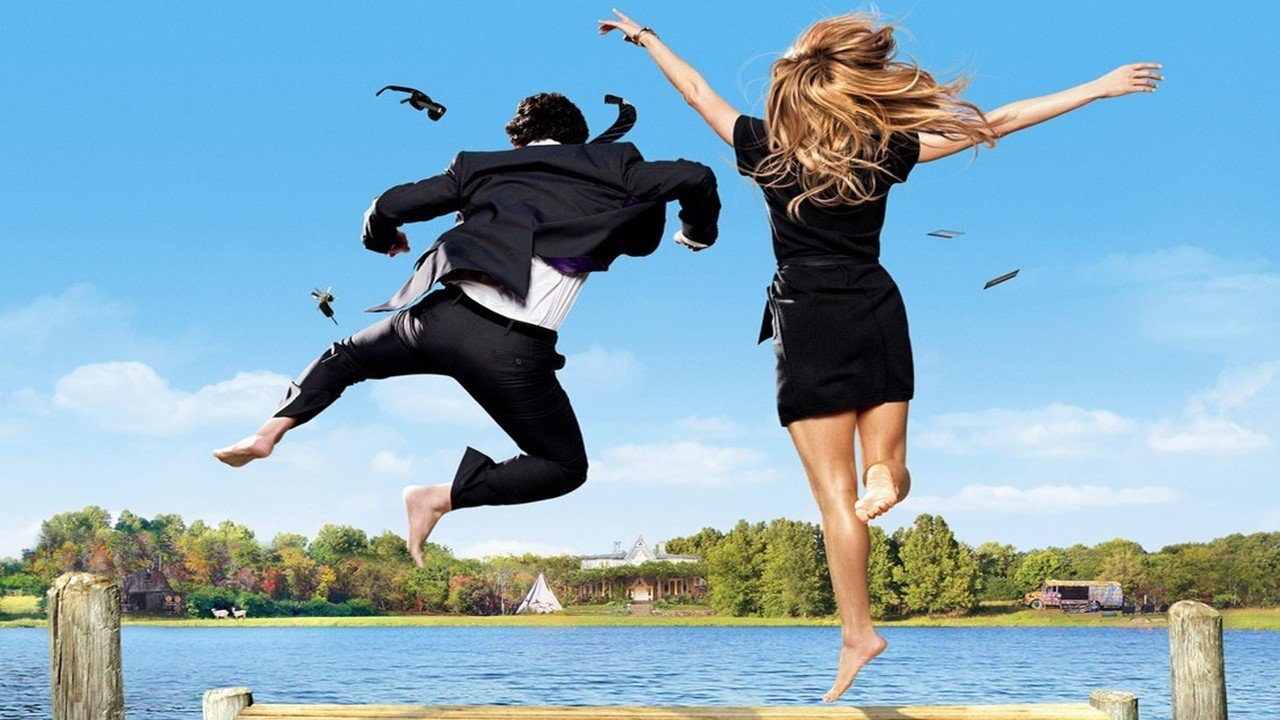 Wanderlust
"Aaron is brilliant! Creative, proactive, collaborative, and a blast to work with. He went so far beyond expectations, creating a full-blown fictional commune that oozed with personality, specificity and artistry. Every space told volumes about the characters that inhabited them.His ideas and enthusiasm inspired me to do my best work. I can't wait to work with him again."
-David Wain
Director of Wanderlust
Read more about Wanderlust at interviewly.com
& leapbackblog.com
The Losers
"The Losers is a highly entertaining film. Its mix of action and comedy harkens it back to the great action/comedies of the 80's (like Die Hard, only this was PG-13), chalked full of offbeat villains, outlandish sequences of stylized action, wonderful banter, and a ragtag group (each with his/her own skill set) of mercenaries. The film plays a bit like an homage to action/comedies as the narrative certainly is cognizant of the expectations of the genre, but the movie is still deeply influenced and rooted stylistically in the world of graphic novels. The visual style used is referential to that of comic books as well. The biggest strength of the film is its screenplay, and more to the points its dialog. Peter Berg and James Vanderbilt did an excellent job translating the characters to film and creating great slick funny exchanges between them and great scenes for them. The film is also visually dynamic in that it makes a point to have interesting shot composition whenever possible. However, while the film looks and plays in a sleek cool manner, it is a bit shallow (but is it really supposed to be more than it is?). The narrative and characters have little depth and are mostly one note, but this does not detract from the film's overall enjoyment."
-Geoffrey Winssinger
LeakBackBlog
Read more here
You're Not You
"Playing a fortysomething patrician woman afflicted with ALS, Hilary Swank gives a sensitive, nuanced illustration of the disease's horrible physical toll in George C. Wolfe's "You're Not You." Unfortunately, the film calls on her to play a disease more often than a character, and this well-intentioned weepie never quite rises far enough above its movie-of-the week architecture to hit all its intended emotional pressure points. There are still some genuinely affecting individual scenes and keen observations to be found, however, and Swank's performance alongside Emmy Rossum should help draw moderate yet appreciative attention to the film on VOD. While the film's last two acts begin to deepen its characters in generally satisfying ways, "You're Not You" throws down its initial gauntlet with an off-putting lack of subtlety. An ominous prologue introduces upper-crust Houston couple Kate (Swank) and Evan (Josh Duhamel) as they host a cocktail party in their impressive, antiseptic modernist home. All goes well until Kate, a former concert pianist, takes to the keys and finds her right hand shaking uncontrollably. Flash forward a year and a half, and Kate's disease has advanced rapidly, necessitating around-the-clock care. After firing a nurse because "she made me feel like a patient," Kate tries going in the opposite direction, auditioning an unemployed college student with no relevant experience named Bec (Rossum)…"
-Andrew Barker
Senior Features Writer at Variety
Read more here
That's My Boy
"The role of Donny Berger is classic Adam Sandler," says Sean Anders, who directs Adam Sandler in the new comedy That's My Boy. "This is the kind of character that only Adam Sandler can play. Donny Berger's behaviourr is off the wall, but when Adam Sandler plays it, you just like him anyway. Watching him take on this raucous kind of role was just awesome."

In the movie, Adam Sandler plays the worst parent one can imagine – sure, he loves his son, and he did his best, but Donny Berger's best just wasn't nearly good enough. Still, he's not all bad – there's something redeeming, even endearing about Donny. "Donny is wild, he's crazy, he has horrible judgment, but he's a really good guy, and he's a joyful guy," says Sean Anders. "He's that friend that everybody has who just makes friends with everyone and anyone; he's just OK with whatever anybody's doing. His capacity for joy allows the audience to forgive him a lot of his mistakes and bad judgment.

In his first meeting with Adam Sandler, Sean Anders, along with his producing partner, John Morris, discussed what they saw as the heart of the movie. "John and I are drawn to stories of male bonding, and in this case, the father-son relationship carries a lot of heart – every guy has a very strong connection to his own father. That heart cleared the way for some of the craziness of the movie – it makes the movie even more fun."
-Femail.com.au
Read more here
Don't be a Menace in South Central While Drinking Your Juice in the Hood
"Slap the plots and characters of "Boyz N the Hood" and "Menace to Society" into a frying pan, heat to a high sizzle, then spray with laughing gas and you get "Don't Be a Menace to South Central While Drinking Your Juice in the Hood," a free-for-all comic spoof that brings the "hood" genre of Hollywood films full circle. Crude and chaotic, the movie stridently stands every serious theme and anguished emotion from those two groundbreaking films on its ear.

"Don't Be a Menace," which opened yesterday, follows the misadventures of two homeboys, the goody-goody Ashtray (Shawn Wayans) and his twisted sidekick Loc Dog (Marlon Wayans). When Ashtray meets Dashiki (Tracey Cherelle Jones), an unmarried mother of seven who has slept with every man in the neighborhood, her children all pipe up in unison, "Are you my daddy?" Ashtray loses his virginity with Dashiki on a kitchen floor after a ritual involving half a refrigerator's worth of goodies poured over each other's bodies and slurped up. The instant they finish making love, Dashiki announces that she is pregnant.

The movie's funniest character is Loc Dog's gray-haired grandmother, a pot-smoking, gun-toting, obscenity-slinging old woman who in the film's most frantic scene disrupts a church service with a flailing breakdance…"
-Stepheen Holden
The New York TImes
Movie Reviews
Read more from this review, or these other reviews of Don't Be A Menance From the LA Times and The Austin Chronicle.
Dumb and Dumber To
Meet Aaron Osborne, the Guy in Charge of the 'Dumb and Dumber To' Mutt Cutt Van
The culture industries are made up of a vast number of jobs that perform very specific functions that bring us final products in TV, film, music and other popular arts. In this new semi-regular Speakeasy feature called "Odd Jobs," we'll examine people spending their working lives behind the scenes in a unique way. Today we speak with Aaron Osborne, a production designer who has worked on a variety of films including "Kiss Kiss Bang Bang," "I Am Sam," and "Don't Be a Menace to South Central While Drinking Your Juice in the Hood." Recently, he got a gig as the designer for the Farrelly Brothers' "Dumb and Dumber To," where he was tasked to take care of the film's iconic Mutt Cutt van. A replica is making its rounds as a promotional tool, but we come to find out the original has had a rather sedentary life since the original film debuted in 1994.
"Prep is the production designer's domain. In prep, we're all about conceiving on how we're going to slay the dragon. Once we start shooting and the plan is implemented – who I am in prep, and who I am in shooting are two different guys. The shooting crew takes on their own life. Prep is my shoot in a way. I build sets, keep ahead of them and make them look fantastic. I'm in a lot of places. It's non-stop movement."
-Mike Ayers
The Wallstreet Journal
SPEAKEASY
Read more from this article from the Wall Street Journal and Entertainment Weekly
I Am Sam
""This is a well-crafted and sensitively acted film that explores the highs and lows of parenthood as experienced by Sam Dawson, a single father whose intellectual ability is limited but whose love for his daughter knows no bounds. Following the birth of his new daughter Lucy, Sam (Sean Penn) finds himself alone when Lucys mother disappears into the crowd on a street outside the hospital. Undeterred, Sam takes baby Lucy home and does his best to care for her. Like any new parent, he feels out of his depth, until he turns to a reclusive neighbour, Annie (Dianne Wiest), who gives him the support and reassurance he needs.

Though cracks appear from time to time, Sam and Lucy live together happily enough for seven years, until one evening when Sam has an (all-too innocent) encounter with a prostitute and ends up at the police station, where his parenting ability is questioned by staff from the Department of Children and Family Services. When its determined that Sams limited mental ability is holding his daughter back, Lucy is removed from Sams care and their world is turned upside down. In order to regain custody of his daughter and rebuild their life together, Sam must prove to the courts (as well as to his lawyer and himself) that love is what Lucy needs most, and that no one can give her that love better than him.

In his Academy Award-nominated role as Sam, Penn gives an emotional performance, creating a character whose intellect is limited but whose heart is expansive. From giddy moments of excitement reading Green Eggs and Ham with Lucy, to dark moments of despair and isolation when all is nearly lost, Penn explores a range of complex emotions. This allows Penn to demonstrate once again what a compassionate and adaptable actor he is."
-Elise Weightman
MC Reviews
Read more here.
Grown Ups 2
"What happens when a guy like Adam Sandler makes the most successful comedy movie of his two-decade film acting career? He returns years later to do his first sequel. Columbia Pictures and Happy Madison brings "Grown Ups 2" to theaters three years after "Grown Ups", a 2010 summer blockbuster that kicked ass and took names at the box office. After opening with a $40 million weekend in June 2010, "Grown Ups" raked in more than $268 million worldwide.

In "Grown Ups 2" Sandler plays Lenny Feder, a Hollywood hotshot who packs up his family and relocates them to his Americana hometown to offer them a better family life."
-Tom Ferda
tomferda.com
Read more here.
Another Day in Paradise
"Larry Clark's Another Day in Paradise detonates the same compelling yet disturbing charge as his first film, "Kids," and his celebrated photo essays, in particular "Tulsa," documenting outlaw teens caught up in sex and drugs. Now Clark has drawn upon ex-convict Eddie Little's novel, astutely adapted for the screen by Christopher Landon and Stephen Chin, to express the yearning for family ties within a crime spree plot.

Not another bloody killers-on-the-run saga, you might well say. But such is the power of Clark and his colleagues that you're able to connect your own sense of ambivalence over the film to its central character, Mel, played by James Woods with ferocious wit, and to the film's profoundly ambivalent view of the American family as alternately nurturer and destroyer. The filmmakers are not about to let us get around the old truism that violence is as American as apple pie, but they do so in a complex way, juxtaposing it against a tenderness so raw and direct yet at times so ironic as to be darkly funny.

"Another Day in Paradise" is as mercurial and reckless in tone as are its junkie characters, and Clark catches all these quicksilver shifts with unstinting perception and even compassion. As contradictory as it is energetic, the film takes as many risks as its people do and as a result strikes a highly contemporary nerve…"
Kevin Thomas
LA Times Staff Writer
Read more here
Kiss Kiss, Bang Bang
"When Aaron Osborne was hired as the production designer for the 2005 comedic-noir homage Kiss Kiss, Bang Bang (with an appropriately sardonic Robert Downey Jr. in the lead), Osborne says, "I walked into a very big white room and threw up about 40 covers from his paperbacks—all kinds. And we would refer to them as we location-scouted. They were kind of like a template for the entire movie."
Vanity Fair Magazine
Read more here.